Learn what responsive design is and find out why your website should use this technique that ensures compatibility with smartphones and tablets screen.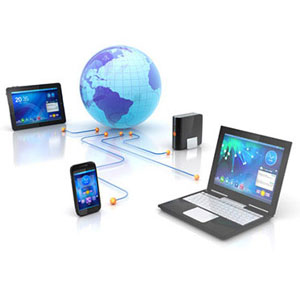 Internet access from tablets and smartphones are growing in the world: 1.8 billion people are using mobile web in 2015.
Who does not have mobile-friendly website is missing opportunities. But don't panic! There is a simple solution called responsive design.
What is responsive design?
In short, responsive design is a technique that enables you website to adapt its layout to different screen sizes.
This means that instead of creating a website for viewing on computers and other for mobile devices, you will only have one compatible model for both platforms.
Why bother with different screen sizes?
There was a world where internet access was given exclusively by computers, usually with a resolution of 1024 x 768 pixels. All the websites needed was to be well visualized on these monitors and nothing else.
This wonderful world no longer exists.
Today we connect to the internet by many ways: desktops, laptops, tablets, smartphones and even television.
When your customer needs to research something on the web, he don't hesitate to use any of these alternatives. So your website must be ready to been opened screens of any size and format.
More relevance to the search engines
Google penalizes sites that aren't mobile-friendly. Compatibility with different screen sizes (responsive design) is among others criteria used by Google to display a page on the top of its search results.
Besides offering better browsing experience to your visitors and potential customers, using responsive design gives you a good rank in Google results.
How to make a website using responsive design?
All free WordPress templates by Site.co use responsive design. They are mobil-friendly, ready to run on smartphones and tablets.
It is easy to edit. You just have to drag and drop items on the screen to customize your website as you like. Even those who have never created one before are able to use our free website builder!
You don't need web design or coding skills to create website with responsive design!